I was so tired from all the Halloween festivities and that hayride left me with hay in my hair. It was such a mess, but I had to rush home to get dressed for the AOL Journalists Halloween Masquerade Ball!
As usual, I showed up in my favorite limo...
This is what I wore...
Yep! I was Marilyn Monroe in her beautiful pink dress and opera length pink gloves. I just love finding new places to wear diamonds! When everybody saw me show up in my limo, they immediately knew who I was, so I wasnt going to wear a mask, but a mask is so fun and so Masquerade! And because it was a bit chilly, I decided to wear my mink!
The ball was just creamy! We had a fabulous Halloween dinner, and as you can see, I danced the night away with all the fellas!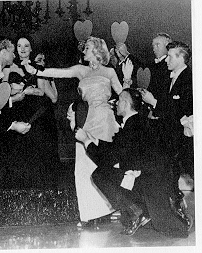 I didnt recognize some of my friends because they were in costume, of course, but how could I have mistaken Vivian when she shouted at the top of her voice: Let Them Eat Cake! And of course, Kat wore her Catwoman costume, just as she said she would! Dont you just love Halloween! I hope we will have another ball next year.