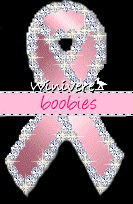 October is "Breast Cancer Awareness" month.
I made this tag on both white and black backgrounds.
I went into complete shock
when I heard about Christina Applegate's
battle with breast cancer.
The most shocking part was that
she had no problem with
removing both her breasts!
Wow!
How brave is that?!
My aunt was diagnosed
with breast cancer in June.
Fortunately, it was caught in time,
and she didn't have to have her breasts removed.
Queen Latifa jokes
that she enjoys every minute
of her monthly breast self-exams.
Set a date for yourself
to do your self-exams every month,
say every 1st of the month
or every 1st Friday of the month,
for example.
It may save your breasts
and your LIFE.
xx
Deeply apologetic for not posting
on Monday or Tuesday.
Whenever I post,
I spend a lot of time making the tags,
but I also have to cut and paste
the letter "d"
for all words that contain the letter "d"
because that letter is missing from my computer,
Because spell check does not catch all the words,
that means that it takes me a long time
to write an entry...
and yesteray,
I was just too tired to do that
so I am a couple of tags behind
but it is on my agenda to catch up!
LOL
P. S.
Very upset over recent AOL change...
They want to ditch our journals!
Grrr @ over five years of my life
into the trash?!